많은 사람이 오가는 뉴욕, 그러므로 많은 것들을 제대로 보지 못하고 지나칠 때가 많다. 사람들에게 치여서 내가 갈 곳을 찾아가기도 바쁜 뉴욕이지만, 내가 아무 생각 없이 지나치는 길에서 전혀 생각지도 못한 것들을 발견하게 된다면 어떨까? 당신이 뉴욕 길을 걷더라도 눈치채지 못하고 지나칠 조형물 5가지를 소개한다.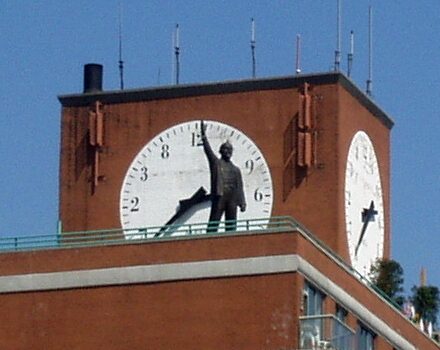 1. The Red Square Lenin
Address : 250 East Houston Street
-민주국가인 미국, 그리고 정말 많은 사람이 오가는 뉴욕 한복판에서 공산주의의 대표 인물인 블라디미르 레닌의 동상이 있을 것이라고 그 누구도 생각하지 못할 것이다. 하지만, 맨해튼의 비싼 아파트들이 즐비하게 늘어진 Lower East Side의 고급 아파트 옥상에 레닌 동상이 있다. 레드스퀘어 빌딩 꼭대기에서 늠름하게 서 있는 그의 동상을 볼 수 있다. 레닌 동상이 자본주의의 상징인 월스트리트를 바라고 보고 있다는 것이 참 아이러니하다.

Image credit : pixabay.com
2. The Eerie Herald Square Owls
Address : Secret on 34th Street
맨해튼 34번가에는 오직 밤에만 볼 수 있는 부엉이 혹은 올빼미가 있다. 낮에는 절대 볼 수 없는 이유는 먼지를 잔뜩 뒤집어쓰고 있기 때문에 식별이 거의 불가능하다. 하지만, 밤이 되면 두 눈이 초록색으로 빛나기 시작하면서 존재감을 나타낸다. 과거 뉴욕 헤럴드 신문사 빌딩에 있던 이 동상은 건물이 없어지면서 기념 비위에서 모두를 내려다보고 있다. 이 부엉이 혹은 올빼미는 맨해튼에서 가장 알아차리기 힘든 동상으로 당신이 아무리 찾으려고 노력을 하더라도 초록색으로 반짝이는 두 눈을 찾지 못한다면 절대 불가능할 것이다.
3. Rub Moneybags in Life Underground
Address : Life Underground 14th Street and 8th Avenue Subway Station A, C, E, L Subway Line
뉴욕을 방문하는 모든 사람이 한 번쯤은 거친다는 14번가. 더럽기로 유명한 뉴욕 지하철이지만 14번가만큼은 더러움을 잊을 만큼 독특한 동상들을 만날 수 있다. 동상들은 만화 캐릭터 같이 생겼는데, 그들은 각자의 역할이 있다. 경찰관, 청소부, 동물, 그리고 건설노동자까지 다양한 직종 그리고 동물들을 만날 수 있다. 이동상들은 굳이 찾으려 하지 않아도 14번가 플랫폼에 잔뜩 늘어져 있으니 시간이 된다면 몇 개의 그리고 무슨 동상들이 있는지 찾아보자.
4. Take the bull by the balls on Wall Street
Address : Wall Street Bull Bowling Green, Financial District
월스트리트에 있는 황소 동상은 뉴욕에서 자유의 여신상 다음으로 유명한 동상이다. 하지만, 그 누구도 이 동상이 불법 게릴라 작품이라고 생각하지 못할 것이다. 1989년 12월 15일에 생겨난 이 동상은 그 누구도 알아차리지 못한 불법 동상이었으나, 뉴욕 정부가 지금 동상이 있는 위치에 정식으로 설치하면서 황소 동상은 관광객들의 필수 코스가 되었다. 대부분의 관광객이 방문하는 곳이기 때문에 쉽게 찾아갈 수 있을 것 같지만, 생각보다 골목 사이에 있어서 그 주위를 걷다가 사람들이 많이 있는 곳을 찾아야 한다.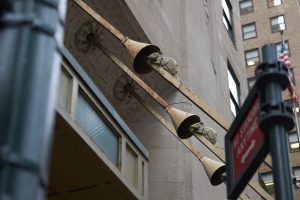 5. A different kind of rat race: the Graybar Rats
Address : 420 Lexington Ave New York
많은 역사를 지니고 있는 그랜드 센트럴을 거닐다가 절대 알아차리지 못할 쥐 몇 마리가 있다. 뉴욕에는 정말 많은 쥐가 돌아다니는데 지하철 플랫폼에서 쥐를 안 보는 날이 없을 정도다. 하지만, 이 쥐들이 살아있는 것은 아니다. Graybar Electric building의 장식의 일부분이었던 쥐들은 갑자기 사라졌었다. 하지만, 빌딩이 다시 지어지면서 쥐들이 다시금 세상에 나타났다. 수많은 관광객이 이 쥐들을 지나치지만, 쉽사리 알아채지는 못한다.
그냥 단순한 관광도시로만 알고 있는 뉴욕이지만, 건물의 장식과 그 역사를 알고 나면, 단순히 관광도시만은 아니라는 것을 알게 될 것이다. 생각보다 많은 역사와 예술을 가진 도시인 뉴욕을 조금 다른 시선으로 바라보면 어떨까?