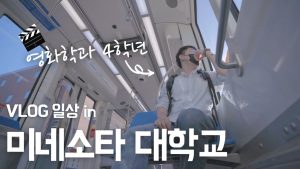 안녕하세요 미네소타 대학교에 재학중인 컬리지인사이드 대학생 기자단 이두현입니다.
오늘 기사의 주제는 내가 다니는 학교 소개하기 입니다. 미네소타 대학교는 퍼블릭 아이비리라 불리는 주립대학교 중에 수준높은(20위 이상)  프로그램을 갖추었습니다. 학생 수는 2018-19년도 기준 5만 명이 넘는 BIG School이며 학비는 In State 15,027 USD, Out of State 33,325 (출처 University of Minnesota) 로 되어 있어 BIG school 중에서는 학비가 저렴한 편으로 속하여 있습니다. 
미네소타 대학교를 더욱 생동감 있게 전달하기 위해, 2021년 가을학기 미네소타 대학교 개강 브이로그 영상을 직접 촬영을 해보았습니다. 영상을 통해서 미네소타대학교를 다니는 현장을 소개합니다.
https://www.youtube.com/watch?v=dpK4g3jPmHw
출처 : 유튜브 두라프 Du'sLife 채널